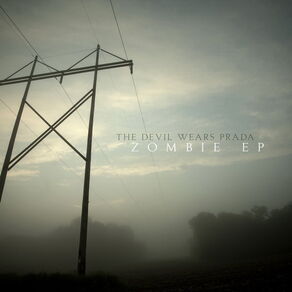 Zombie
is the first extended play by American christian
metalcore
band
The Devil Wears Prada
. The EP was released August 24, 2010, through
Ferret Music
 and is the band's first concept album.
Background
Edit
The planning and writing for Zombie began before the summer of 2010. In June it was confirmed that the recording of it was completed and the band then thereafter embarked on their Back to the Roots Tour. Upon its original announcement, frontman Mike Hranica described it as being a "fun" release with "brutal" songs. Its general concept concerns the story of a relentless zombie apocalypse due to Hranica's strong interest on the subject.
"The whole thing is just completely based upon zombies, Last fall, I was on a real zombie kick. I read The Zombie Survival Guide by Max Brooks, and I thought, 'What if we made a zombie song?' All it took was me just saying that to the band, and we had our hearts set on doing this EP." - Mike Hranica
Musical StyleEdit
The band's metalcore musical style evolved considerably after the release of With Roots Above and Braches Below. Taking note of the EP's speedier approach, The Devil Wears Prada stated that Zombie has the "fastest music they've ever written" and even admitted that it draws a strong influence from the likes of Slayer and Hatebreed. It is also the first release by the band that does not feature humorous song titles.
ReceptionEdit
Critically, reception to Zombie has been met with positive reviews and ratings. Upon the EP's release, it debuted at number 10 on the Billboard 200 and number 2 on the Independent Albums. The EP was praised for its notice of the band's overall performance along with many critics enjoying its concept.
Allmusic praised the group's musicianship expressing enjoyment over the array of influenced entwined with the EP's eerie concept. Dom Wyatt of Dead Press! stated "[The EP] kind of takes me back a good five or six years in the underground metal scene where it was commonplace to use movie sound bites mid-song, albeit this time they use a feigned public service announcement at the start of track three, 'Outnumbered'. The main track that stands-out is "Anatomy", if not for the vicious breakdown but for the opening riff with the synth intertwined."
Track Listing
Edit
"Escape"
"Anatomy"
"Outnumbered"
"Revive"
"Survivor"
Personnel
Edit
The Devil Wears PradaEdit
ProductionEdit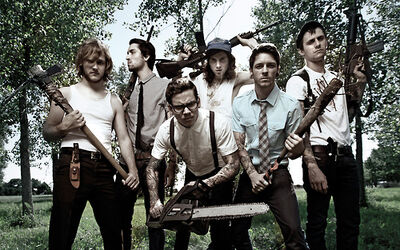 References
Edit
Ad blocker interference detected!
Wikia is a free-to-use site that makes money from advertising. We have a modified experience for viewers using ad blockers

Wikia is not accessible if you've made further modifications. Remove the custom ad blocker rule(s) and the page will load as expected.