We Stitch These Wounds
is the debut studio album by American
metal
band
Black Veil Brides
released on July 20, 2010 through
StandBy Records
. The album features re-recorded versions of the tracks "
Knives and Pens
", "
We Stitch These Wounds
" and "
The Mortician's Daughter
" from the band's 2007 EP. This is the first release by the band to include guitarist Jake Pitts and Jeremy Ferguson, and bassist Ashley Purdy. The band's style shifted from their post-hardcore musical style to a melodic metalcore sound with screaming in abundance. This is the only release by the band to include drummer Sandra Alvarenga before she left for the
Modern Day Escape
.
Background
Edit
Release and PromotionEdit
In December, 2009, Andy Biersack announced that the recording of their first album had begun. Simultaneously, they announced a threesome with manager turned producer, Rob "Blasko" Nicholson taking the reins, and producer/engineers G. Preston Boebel and Josh Newell taking care of the technical side of the record making process
ReceptionEdit
The album sold nearly 11,000 copies in its first week, reaching the position of #36 of the Chart Billboard 200 and #1 Independent Release, despite receiving mixed to negative reviews, with most critics taking note of Andy's monotonous voice, making him only able to sing in one octave (after recording We Stitch These Wounds, he took vocal training to improve what he could do with his voice). One critic at Sputnikmusic ended his review saying, "Hey, at least kids got over brokeNCYDE." Another common criticism was the similarities between "Knives and Pens" by Black Veil Brides and "Unholy Confessions" by Avenged Sevenfold.
Track Listing
Edit
Standard EditionEdit
"The Outcasts (Call to Arms)"
"We Stitch These Wounds"
"Beautiful Remains"
"Children Surrender"
"Perfect Weapon"
"Knives and Pens"
"The Mortician's Daughter"
"All You Hate"
"Heaven's Calling"
"Never Give In"
"Sweet Blasphemy"
"Carolyn"
Hot Topic Bonus TrackEdit
"Knives and Pens" (Acoustic)
Personnel
Edit
Black Veil BridesEdit
Additional MusiciansEdit
ProductionEdit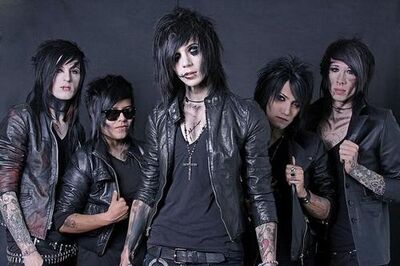 The album cover for We Stitch These Wounds was painted by Richard Villa (who also painted the artwork for Set the World on Fire, Rebels, and Wretched and Divine: The Story of the Wild Ones) and features a Victorian style painting of Black Veil Brides' vocalist Andy Biersack stitching a wound on his lip.
The opening track "The Outcasts (Call to Arms)" features Andy's grandfather, Urban P. Flanders, and the track is also used at the beginning of the "Perfect Weapon" music video.
Three of the songs ("We Stitch These Wounds", "Knives and Pens", and "The Mortician's Daughter") had been previously self-released on their EP, Sex & Hollywood, but were re-mastered and re-released. "The Mortician's Daughter" didn't change much, and "Knives and Pens" had a small change in the melody transitioning to the chorus and a guitar solo was added, but the most noticeable difference to the redone tracks can be heard on the song "We Stitch These Wounds", with different melodies, accompaniments, a long guitar solo, and a minor lyrical change, making it sound like an entirely different song altogether.
The songs "All Your Hate", "Sweet Blasphemy", and "Beautiful Remains" were originally written by ex-Black Veil Brides guitarist David Burton, but with different names. "Beautiful Remains" was originally "Funeral in Flames", but Andy changed the title and some of the lyrics. The original name for "All Your Hate" is "Alive and Burning", and "Sweet Blasphemy" was originally "Kings Without Crowns".
The music video for the song "Knives and Pens" was filmed when only three members were in the band (Andy Biersack, Chris Bluser and Sandra Alvarenga)
Music Videos
Edit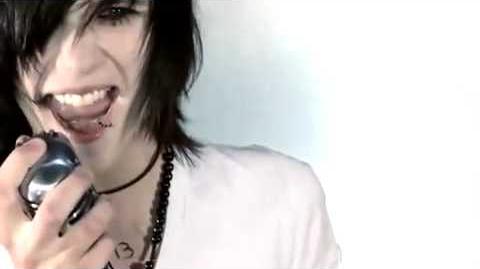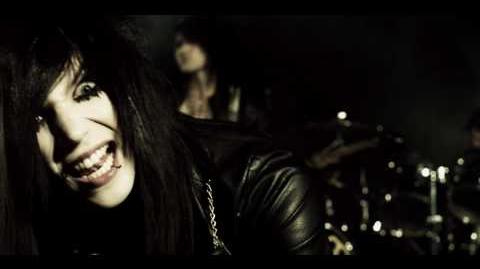 References
Edit
Ad blocker interference detected!
Wikia is a free-to-use site that makes money from advertising. We have a modified experience for viewers using ad blockers

Wikia is not accessible if you've made further modifications. Remove the custom ad blocker rule(s) and the page will load as expected.