There Is a Hell, Believe Me, I've Seen It. There Is a Heaven, Let's Keep It a Secret.
is the third studio album album by British
metalcore
band
Bring Me the Horizon
. It was released on 4 October 2010 throughout the majority of Europe through
Visible Noise
whilst being released in the United States the following day through
Epitaph Records
. Recorded between March and June 2010 in IF Studios in Frolunda,Gothenburg Sweden and Sunset Lodge Studios in Los Angeles, California, the album was produced by Fredrik Nordstrom and Henrick Udd and features guest vocals from Canadian recording artist
Lights
, Josh Franceschi from British
post-hardcore
band
You Me at Six
and Josh Scogin from American mathcore band
The Chariot
.
Musically, the album expands itself from the band's previous material, drawing from the metalcore and post-hardcore genres whilst also incorporating a wide variety of experimentation, symphonic metal and electronic influences, clean vocals and choir vocal samples. Lyrically, the band has described Oliver Sykes' writing to be "personal" and "darker and moodier than music on the previous albums". The album's title is taken from the opening track, which is repeated multiple times throughout its verses and choruses.
There Is a Hell received critical acclaim from music critics, who praised the album's musicianship, lyrical content, experimentation and maturity in comparison with the band's previous material, with several publications placing it on their year-end lists. The album charted in multiple countries, including Australia, Canada, Germany, Sweden, the United Kingdom and United States, while topping the charts in Australia. The album has spawned five singles, with "It Never Ends" charting within the top ten of the UK Rock Chart, the top twenty of the UK Independent Chart and the UK Singles Chart, where it reached a peak of 103.
Background and Recording
Edit
On 26 November 2009, Bring Me the Horizon confirmed that they would start the writing of their third studio album in the early part of 2010, scheduled for a summer release. The album would be the first with the band for guitarist Jona Weinhofen, who stated that he was "…excited to be working on something new and so different than [his] previous works". After spending the majority of their writing time in rural Scotland, the band entered IF Studios in Sweden with producer Fredrik Nordstrom in March, completing the majority of the recording process by June.
Due to unforeseen delays, the band ended up behind their recording schedule at IF Studios. Six of the vocal tracks were therefore recorded over three days in Los Angeles, just before embarking on Warped Tour. The band initially wanted Lucy Conroy of indie pop band Lucy and the Caterpillar to contribute female vocals to the album, the band believed it would throw listeners off and when she was asked about her contribution she said "Matt Kean was aware of my music and wanted someone kooky to sing on the album. I turned up and loved the track instantly." However, Lucy Conroy's contribution to the album was never featured and never disclosed as to why. But while the band was in Los Angeles they heard that Valerie Anne Poxleitner was in the same city and they asked her to record for them, Sykes in an interview stated that "when we were recording in L.A., my manager told me she was in town and asked if we'd be interested in getting her on the CD. We wanted some female vocals. She said she'd love to, and came down and nailed it in a few hours. It was all a lucky coincidence."
Composition
Edit
The album represents a significant shift in musical direction from the band's previous releases, moving further away from the original deathcore sound of Count Your Blessings and featuring a wide variety of experimentation, including notable post-hardcore influences, melodic interludes and extended ambient sections, electronic and symphonic keyboard samples, clean vocal segments with guest vocalists Lights and Josh Franceschi of You Me at Six and an unconventional use of choir-vocal samples in several songs. This album also features an increase in the complexity and structure of the band's songwriting, in stark contrast to the more standard metalcore featured on Suicide Season. Darryl Sterdan of QMI Agency credits the album of fusing metalcore, electronica, classical and pop together. This change in style was well received by critics, but reception amongst the band's fan base was mixed.
Lyrically, the album has been described as almost conceptual for Sykes, in the albums announcement from Epitaph it was stated that the album "vividly explores humanity's collective good nature". The band has often looked at the lyrical themes of There is a hell as being repercussions of what was sung about on the band second album. Matt Nicholls described Oliver Sykes lyrics as being more darker and moodier than the music on previous albums. When asked about the truthful nature or the lyrical content Oliver Sykes said that "It's all about me. Everything I write is personal. And it's all very true[...] It's stuff I don't talk to people about. But when I put pen to paper, it's a lot easier".
Release and Promotion
Edit
On 12 August, a press release revealing the album's title, artwork and track listing was released. It was accompanied by a preview trailer for the album, which was published through the Epitaph Records YouTube channel. A 30-second sample of the first single "It Never Ends", released on 20 August, was published on Amazon the same day. Their song "Fuck" was released through the band's MySpace, PureVolume and Facebook pages, as well as the Visible Noise YouTube channel and Epitaph Records SoundCloud page, on 14 September. The entire album began streaming on their Myspace on 28 September 2010.
Reception
Edit
Critical ReceptionEdit
There Is a Hell, Believe Me I've Seen It. There is a Heaven, Let's Keep It a Secret. received generally positive reviews from music critics. At Metacritic, which assigns a normalised rating out of 100 to reviews from mainstream critics, the album received an average score of 80, based on 9 reviews, which indicates "generally favorable reviews".
British publication Rock Sound has given the album large critical acclaim. Upon its release Rock Sound writer Pete Withers gave the album a 9 out of 10 praising its lyrical content and musical diversity "a bold and unrestrained body of work which is unafraid to push their more experimental, electronic tendencies to the fore and feature lyrics of a highly personal, bluntly confessional nature." As 2010 came to a close the magazine rated the album as Album of the Year for 2010 "this could've been a beige metalcore album and still sold vastly, but they incorporated classic rock, bottom-heavy electronica, psychedlia and brutal hardcore into something that felt utterly, vitally new." In 2012 the magazine place the album at number 8 as one of their 101 Modern Classics. They considered the album almost as much as a classic as post-hardcore defining albums Relationship of Command and The Shape of Punk to Come, both placed at number 4 and number 3 respectively . Stating that "[the album] foregrounds the talents of Lee Malia, one of the UK's most talented riff-masters. Gloriously technical but still exhilarating and deliriously frayed, 'There Is A Hell…' stands as perhaps the best homegrown metal album in years."
The album was well received from different musicians as well. Simon Neil of Biffy Clyro chose the album as his choice in an article on the The best sounds of 2010. Saying "it is one of the best metal records I have heard in years: jam-packed with ideas and energy, and, most importantly for a metal record, the vocals don't make you cringe." Rob Halford of Judas Priest praised the album in an interview with Metal Hammer by considering it pushing the limits saying: "And it seems to be the norm that if you attack something for this or that reason, the band are generally on to some really good idea. It could be setting a new standard. You have to be open minded in that way."
Commercial PerformanceEdit
It had mixed success in Australia, where it debuted at number one but registered the smallest ever sale for a week at number one with 3,600 units. It later registered the second largest single weekly decline for a number one album in ARIA chart history dropping 1–20, behind Psycho Circus by Kiss, which dropped 1–32. The album sold 20,200 in the US in its debut week, making it the fastest-selling album released by the band.
Track Listing
Edit
Standard EditionEdit
"Crucify Me" (featuring Lights)
"Anthem"
"It Never Ends"
"Fuck" (featuring Josh Franceschi of You Me at Six)
"Don't Go (featuring Lights)
"Home Sweet Hole"
"Alligator Blood"
"Visions"
"Blacklist"
"Memorial" (Instrumental)
"Blessed With a Curse"
"The Fox and the Wolf (featuring Josh Scogin of The Chariot)
Sony Music Entertainment Japan Bonus TracksEdit
"Chelsea Smile" (KC Blitz Remix)
"Football Season Is Over" (After the Night Remix)
"The Sadness Will Never End" (Skrillex Remix)
Personnel
Edit
Bring Me the HorizonEdit
Additional MusiciansEdit
ProductionEdit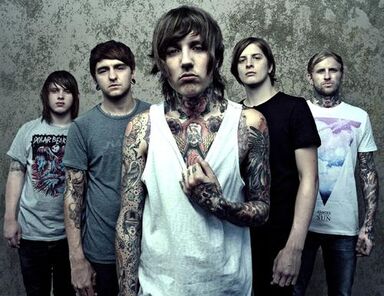 Music Videos
Edit