The Color Morale is an American christian metalcore band from Rockford, Illinois and are currently signed to Rise Records. The band formed in 2005 and have released two studio albums. The band released their first studio, We All Have Demons on September 1, 2009 and their second studio album, My Devil in Your Eyes on March 8, 2011. The band's third album, Know Hope will be released in March 2013.
The Color Morale's sound is influenced by a variety of post-hardcore and metal bands such as Glassjaw, Beloved, Silverstein, Misery Signals and Poison the Well.
Formation and Debut Album (2005 - 2010)Edit
The band was formed in 2005 by Garret Rapp, Ramon Mendoza, John Bross, Justin Hieser and Steve Carey. The band began creating music soon after their inception. On June 9, 2009 four years after the band's inception, The Color Morale was signed to Rise Records with an expected release of September 1st for their debut studio album. The band's debut album, titled We All Have Demons was recorded at Foundation Studios in Connersville, Indiana with producer Joey Sturgis. In 2010, they set out on the Rise Records Tour with The Bled and also came out with a music video for the song "Humannequin" off the album.
My Devil in Your Eyes (2010 - 2012)Edit
In late 2010, The Color Morale began writing their sophomore album and headed into the studio once again, with Joey Sturgis resuming position as producer. The Color Morale's second album entitled, My Devil in Your Eyes, was released on March 11th, 2011. Shortly before the release, bassist Justin Hieser left the band for personal reasons. Shortly after his leaving, they recruited a replacement by the name of Anthony Wick to take over duties as bassist. While on tour, Hieser reunited with The Color Morale and Wick stepped down as bassist. Then, shortly after leaving for the "Scream It Like You Mean It 2011 Tour", guitarist John Bross left the band due to getting engaged and wanting to settle down to start a family, as well as focusing on his clothing line. Hieser took over duties as rhythm guitarist, and bass was tracked during live performances. During the 2012 Fire & Ice tour, they recruited bassist Ryan Pulice, formerly of the band Rosaline, to take over touring bass duties. In August of 2012 it was quietly announced that lead guitarist Ramon Mendoza would be taking up a reduced role within the band in order to care for his newborn child. Former touring member and merchandise manager Devin King was confirmed as his replacement.
Know Hope (2012 - present)Edit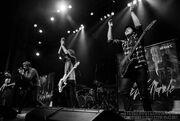 The Color Morale are currently in the process of writing their third album, believed to be entitled Know Hope, and the album is expecting a late 2012 or an early 2013 release. The band has also announced that Aaron Saunders will be the new rhythm guitarist. The album was recorded, mixed and mastered by Josh Schroeder at Random Awesome Studios. The band wrote 22 songs and 12 will make it on
Know Hope
.
On January 7, 2013 Rise Records announced that Know Hope will be released sometime in March 2013.
Christian Beliefs
Edit
In an interview with Soundwave NW, bassist Anthony Wick says this in regards to the band being a "Christian Band" or not: "Most of us are Christians. I think the label "Christian Band" is more related to marketing and sales than it does an actual belief in something. You see so much of this "We're a Christian band, this and that" sort of thing, and you just don't know what people are like outside of that setting. You can be Christian as you want to be on stage, but off-stage, it's a whole different ball game with people. I think before you say anything like that, I think you need to live your life according to what you believe, or you're just a hypocrite and it doesn't matter what you say on stage. I wouldn't label us a Christian band, but we're guys that believe in Jesus, and that's our beliefs — but we like to talk about it in a different sense, different from the idea of "Evangelical Christian Metalcore."
Band Members
Edit
Current MembersEdit
Former MembersEdit
Discography
Edit
Studio AlbumsEdit
References
Edit
Ad blocker interference detected!
Wikia is a free-to-use site that makes money from advertising. We have a modified experience for viewers using ad blockers

Wikia is not accessible if you've made further modifications. Remove the custom ad blocker rule(s) and the page will load as expected.