The Bunny The Bear
is an American
post-hardcore
band from Buffalo, New York. Formed in 2008 by Matthew Tybor and Chris Hutka. The Bunny The Bear's
self-titled
debut album was self-distributed in 2010 and was followed up with 2011's
If You Don't Have Anything Nice to Say
which was issued through
Victory
after their signing to the label in February 2011. Their next album,
The Stomach for It
, was released on May 22, 2012. Tybor writes all the music and lyrics for the band.
Formation and Self-Titled Album (2008 - 2010)Edit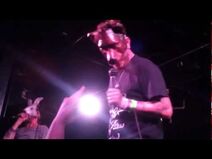 The Bunny The Bear was formed in 2008 by Matthew Tybor/The Bunny, Chris Hutka/The Bear, Mike Toczek, Steven Drachenberg and Jim Kaczmarski. Throughout 2008 to 2010 the band went through some minor member changes and completed their debut
self-titled
album that they would self-release. The band released their debut album on February 4, 2010.
The band released a music video for their song "April 11" on June 8, 2010.
Signing to Victory and If You Don't Have Anything Nice to Say (2010 - 2012)Edit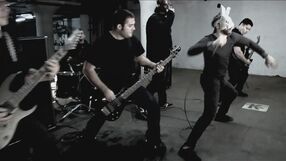 In December 2010 the band released the music video for a new demo song, "
Aisle
". The music video caught the attention of independent music label
Victory Records
who signed the band in 2011. Later that year the band released their sophomore album,
If You Don't Have Anything Nice to Say
which was released on June 28, 2011.
The band partook on the le'Fight To Unite tour in 2012 with Blood On the Dance Floor, brokeNCYDE and Deuce.
The Stomach for It (2012 - present)Edit
The bands third studio album,
The Stomach for It
, was announced during March of 2012. Prior to the albums release two music videos were released one for "
Soul
" on April 9 and the other for "
Lonely
" on May 9. The album was officially released on May 22, 2012.
Band Members
Edit
Current MembersEdit
Former MembersEdit
Touring MembersEdit
Discography
Edit
Studio AlbumsEdit
References
Edit
Ad blocker interference detected!
Wikia is a free-to-use site that makes money from advertising. We have a modified experience for viewers using ad blockers

Wikia is not accessible if you've made further modifications. Remove the custom ad blocker rule(s) and the page will load as expected.