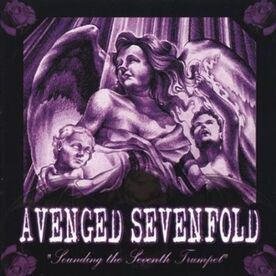 Sounding the Seventh Trumpet
is the first studio album by the American
metal
band
Avenged Sevenfold
, released on July 24, 2001 through
Goodlife Records
. The album includes the band's original metalcore sound with fewer clean vocals than there subsequent releases. The title of the album takes its name from the book of Revelation, specifically referencing chapter 11 and the sounding of the last trumpet, signaling the end of the world. Matthew Sanders' wife Valary DiBenedetto contributed vocals on the track "
The Art of Subconscious Illusion
". The album was released as 2x12 vinyl record, 33 ⅓ RPM, Purple on 2008 in US and re-released on March 19, 2002 through
Hopeless Records
.
Background
Edit
ReceptionEdit
Sounding the Seventh Trumpet was generally well received by critics. AllMusic rated the album three stars out of five and wrote: "Sounding the Seventh Trumpet is a magnificent album that is suitable for any fan of metal music, as Avenged Sevenfold has a firm grasp on all that is extreme." The review also praised the tracks "Darkness Surrounding" and "We Come Out At Night" as being "...excellent metalcore masterpieces, as the vocal harmonies add to these cuts to evolve the songs into fully atmospheric sonic blasts."
Track Listing
Edit
Personnel
Edit
Avenged SevenfoldEdit
Additional MusiciansEdit
ProductionEdit
Music Videos
Edit
References
Edit
Ad blocker interference detected!
Wikia is a free-to-use site that makes money from advertising. We have a modified experience for viewers using ad blockers

Wikia is not accessible if you've made further modifications. Remove the custom ad blocker rule(s) and the page will load as expected.