Ruin
is the sophomore album by British
metalcore
band
Architects
. The album was released on June 25, 2007 through United by Fate Records. Stylistically the album displays a minor change in the band's style, with the mathcore of
Nightmares
being melded with a more fluid metalcore sound. Clean vocals are implemented for the first time in a few songs, although not as prominently as in later releases. As well as a change in style this album marks a change in guitar tuning, from drop C (which was used on
Nightmares
) to drop B, for all tracks, except "
Low
", which features the same tuning as drop B, but with the low B tuned to F# (the bass string on an 8 string guitar). The album was reissued by Century Media on August 5, 2008. The album is the first to feature current vocalist Sam Carter and bassist Alex Dean.
Background
Edit
ReceptionEdit
Ruin was released to positive reviews but seen as a departure from their previous work Nightmares, which was more akin to the works of The Dillinger Escape Plan or Botch.
Ruin was the first Architects album to feature new vocalist Sam Carter. His vocal style was a marked change from that of previous vocalist Matt Johnson, being more of a hardcore shout than a metalcore scream. This is most obvious on the re-recording of "To the Death" (from Nightmares) in May 2008 that was available for download for a short period.
Track Listing
Edit
Standard EditionEdit
"Buried At Sea"
"Hunt Them Down"
"You'll Find Safety"
"Always"
"Sail This Ship Alone"
"Heartless"
"North Lane"
"I Can See the Light"
"Low"
"Running from the Sun"
"Save Me"
2008 Re-release Bonus TrackEdit
Personnel
Edit
ArchitectsEdit
ProductionEdit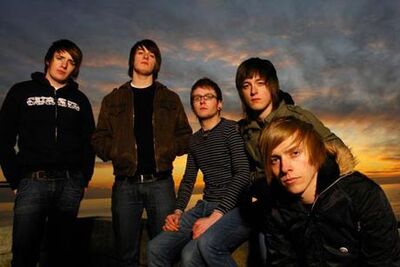 Music Video
Edit
References
Edit
Ad blocker interference detected!
Wikia is a free-to-use site that makes money from advertising. We have a modified experience for viewers using ad blockers

Wikia is not accessible if you've made further modifications. Remove the custom ad blocker rule(s) and the page will load as expected.