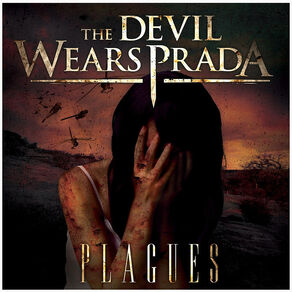 Plagues
is the second studio album by American christian
metalcore
band
The Devil Wears Prada
. The album was released on August 21, 2007, through
Rise Records
. The album was re-released on October 28, 2008 with bonus content. The song "
Hey John, What's Your Name Again?
" is available as downloadable content for the
Rock Band
series of video games. The song "HTML Rulez D00d" is also available as downloadable content only for
Rock Band 2
and
Rock Band 3
via the
Rock Band Network
.
Background
Edit
The recording session for Plagues began during winter 2006 with Joey Sturgis as the chosen producer. The name of the album is a biblical reference to plagues in the book of Revelation. Mike Hranica, the vocalist, considered it to be "very visually appealing", although not as important as the meaning placed behind it. The recording was completed in spring 2007 and the album was released on August 21, 2007.
Plagues was re-released on October 28, 2008. The bonus content for the re-release includes an alternative cover, booklet art and a DVD which has footage of The Devil Wears Prada playing at Ultimatour and Warped Tour in 2008. It also includes the music videos for "Hey John, What's Your Name Again?" and "HTML Rulez D00d". Some of the pre-ordered versions of Plagues included a darker booklet that was signed by all the band members and a white disc, as opposed to the standard version which has a black disc and a lighter booklet.
Track Listing
Edit
Standard EditionEdit
"Goats on a Boat"
"Number Three, Never Forget"
"HTML Rulez D00d"
"Hey John, What's Your Name Again?"
"Don't Dink and Drance"
"You Can't Spell Crap Without C" (featuring Craig Owens of Chiodos)
"This Song Is Called"
"Reptar, King of the Ozone"
"The Scorpion Deathlock"
"Nickels Is Money Too"
South Korean Bonus TracksEdit
"Modeify the Pronunciation"
"Salvation" (featuring Cole Wallace formerly of Gwen Stacy)
Personnel
Edit
The Devil Wears PradaEdit
Additional MusiciansEdit
ProductionEdit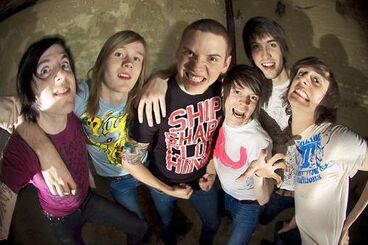 Music Videos
Edit
References
Edit
Ad blocker interference detected!
Wikia is a free-to-use site that makes money from advertising. We have a modified experience for viewers using ad blockers

Wikia is not accessible if you've made further modifications. Remove the custom ad blocker rule(s) and the page will load as expected.