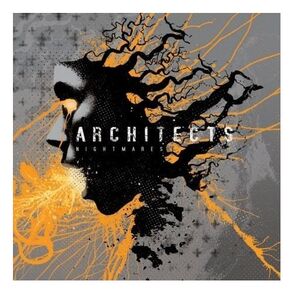 Nightmares
is the debut album by British
metalcore
band
Architects
. The album was released on May 15, 2006 through In At the Deep Records. Stylistically the album features a mathcore sound similar to that of bands like
The Dillinger Escape Plan
,
SikTh
and
Meshuggah
. It is also the only album to feature guitars tuned to Drop C and only features a very small amount of clean vocals, unlike the band's later releases.
Track Listing
Edit
"To the Death"
"You Don't Walk Away from Dismemberment"
"Minesweeper"
"They'll Be Hanging Us Tonight"
"This Confession Means Nothing"
"In the Desert"
"A Portrait for the Deceased"
"The Darkest Tomb"
Personnel
Edit
ArchitectsEdit
ProductionEdit
References
Edit
Ad blocker interference detected!
Wikia is a free-to-use site that makes money from advertising. We have a modified experience for viewers using ad blockers

Wikia is not accessible if you've made further modifications. Remove the custom ad blocker rule(s) and the page will load as expected.