Nightmare
is the fifth studio album by the American
metal
band
Avenged Sevenfold
, released on July 27, 2010 through
Warner Bros. Records
. The album is the band's first release without drummer James "The Rev" Sullivan who died in December 2009, however he did write parts that were used on the final recordings, making this the last album he would help write. His vocals vocals are still on the album as a tribute to him. Mike Portnoy, from
Dream Theater
, who performed as the drummer for the album in his place, also played with the band for all their tours through the end of 2010, due to Dream Theater not touring at that time. They have since hired Arin Ilejay formerly of
Underoath
to drum in Sullivan's place. The album has been certified Gold by the
RIAA
in the United States.
"God Hates Us" is the first song recorded by the band since Waking the Fallen to incorporate screamed vocals.
Background
Edit
Writing and RecordingEdit
In late 2009, two years after Avenged Sevenfold released their self-titled album, and four years after they had issued their breakthrough studio set, 2005's City of Evil, the band started working on their next record, their "most personal and epic that will definitely take you on a very dark journey." Around late 2009, the band worked on the album's production until the death of drummer James Sullivan.
On December 28, 2009 the body of James Sullivan was discovered inside his home. This incident made the band suspend work on the album for some time. In the later months, Mike Portnoy of Dream Theater (a major influence on Sullivan and the rest of the band) agreed to finish recording the drumming tracks for the album: "Even under normal circumstances, I would've been happy to help the guys out in any way I could as I think Avenged Sevenfold are a great band; But under these incredibly sad and tragic circumstances, I must say I am truly honored to have been asked to play with them and I didn't even have to think twice about saying yes. [...] These guys are a true family and it is an incredibly emotional experience to be here with them for the first time without their lost brother. But they have welcomed me into the family with open arms and there's a real excitement to make the record they had set out to make. I am treating my participation on this album with the utmost respect for Jimmy's memory and am remaining as true as possible to the drum parts that he wrote for the songs and the record he wanted to make. [...] Although I wish I could stay on board with Avenged Sevenfold in a more permanent capacity; I will need to resume work with Dream Theater to start a new album at some point in 2011. However, I will be able to join my brothers in Avenged Sevenfold for at least the duration of their touring throughout 2010, and hopefully this will give them the time to continue to heal and get comfortable back on the road."
After a couple of months, more notices about the album became available; a short message from Zachary Baker was posted on the official Avenged Sevenfold Twitter on April 17, 2010: "Tracking is complete. There are no words that will ever describe the feeling of listening to this album while driving home alone at 4 am."
Jonathan Seward stated in an interview with Ultimate Guitar about the writing process and subject matter of Nightmare: "We definitely had made the decision that it was going to be a concept record. We wanted to have a dark concept record, sort of like The Wall or Operation: Mindcrime. At the same time we wanted to incorporate some of what we had done in the past with the guitar work. We wanted to make it heavier in general. Throughout all of that, the songs that came out were musically already as dark as we wanted them to be. Then lyrically it took a different turn when Jimmy passed. The lyrics then became mostly – not 100 percent – but mostly to do with his death and his life."
Matthew Sanders and Brian Haner, Jr., in an interview with The Pulse of Radio, confirmed Sullivan's special appearance in the record. According to the band members, he left a couple of vocals (to their fortune, clear and in key) before his death, which they used on the record. With his drum fills and vocals intact, the record shows itself like the band's last record with their drummer. The same band members revealed some details about the new record in an interview to hardDrive Radio: "[...] The new album, Nightmare, is dedicated to Sullivan's memory and although it's not exactly a concept album, it does center around Sullivan. The eeriest thing about it is there is a song on the album called "Fiction" (a nickname Sullivan gave himself) which started out with the title "Death". And it was the last song Sullivan wrote for the album, and when he handed it in, he said, 'That's it, that's the last song for this record'. And then, 3 days later, he died."
Release and PromotionEdit
The first single, "Nightmare", was released digitally on May 18, 2010. A preview for the song was released on May 6, 2010 on Amazon.com, but was removed soon after for unknown reasons; however, on May 10, 2010, a 30-second audio uncensored sample was again revealed, but this time at SoundCloud and on the band's official website. The band also posted, the same day, a video of the song on their official YouTube channel with animated lyrics, which received over 275,000 plays in 24 hours.
On June 3, 2010, the band revealed a "Limited Edition" of Nightmare for pre-order available only on their website, which contained: the CD, expanded booklet with exclusive artwork, encased in a synthetic leather case with special silver plated crest, 24'x36' lithograph entitled Death Bat Anatomy with original artwork on special texture paper and instant download of their single, "Nightmare".
On May 27, 2010, the band revealed the album cover piece by piece like a jigsaw puzzle over a period of eighteen days, revealing the complete cover on June 15, 2010, along with the track listing.
On June 29, 2010, the band made available an iTunes pre-order of the album, which contains: a digital copy of the CD, bonus track, exclusive photos, "Nightmare" music video, behind the scenes of "Nightmare" and lyric video, audio interview with Mike Elizondo, type set lyrics with hand written notes by the band for "Lost It All" and album artowrk sketches.
The song "Buried Alive" was posted on the band's Facebook page on July 14, 2010, but experienced loading issues due to a large number of users trying to access the video, and was briefly taken down. The problem was resolved on July 15, 2010, and was posted on YouTube as a lyric video which also contained a small animation.
On July 21, 2010 the song "So Far Away" was released by KROQ radio exclusively for one day.
On October 19, 2010, the single "Welcome to the Family" was released.
On April 5, 2011, "So Far Away" was released, followed by the music video.
In September 2011, the band announced plans for a music video for their next single, "Buried Alive". They tried to get Rob Zombie to direct the video, but he declined due to being focused on another project.
The band released a special edition of the album, Book of Nightmares Instrumental featuring instrumental versions of all the tracks from the album.
ReceptionEdit
Upon its release, Nightmare received mostly positive reviews from music critics. At Metacritic, which assigns a normalized rating out of 100 to reviews from mainstream critics, the album received an average score of 62, based on 7 professional reviews, which indicates "generally favorable reviews"
In the August 2010 issue of Metal Hammer, Terry Bezer rated the album an eight out of ten. In his review he had praised the band members for their courage despite of the death of James Sullivan and called it "the ultimate tribute to a fallen friend." He also praised Mike Portnoy for his part in the album and found him a fitting stand-in for The Rev. 411 Mania gave the record a lengthy but highly positive review by giving it a score of 9.0/10. As a conclusion they stated, "If you're a fan of Avenged Sevenfold, Nightmare is a must-have for you. This album is incredibly moving and is better than any tribute to the late Rev I could have possibly imagined."[ Kerrang! gave the album 4 K's out of 5 concluding: "Where Avenged [Sevenfold] go from here is still in the lap of the gods. Whatever their future, though, Nightmare marks the point at which the Huntington Beach crew put away childish things and became men. Wherever he is now, their brother must be immensely proud."
About a month and a half before the record had released, Faye Lewis of Rock Sound, gave the record a highly critical review, saying that the title track "Nightmare" was the only highlight, which generated much criticism. Rock Sound later issued an apology for the review and took it down from their site. In their letter of apology they said: "Rock Sound recently published a track-by-track guide to the forthcoming Avenged Sevenfold album. We wish to apologize wholeheartedly for any misunderstanding in the article that caused upset to both the band and their fans. This was certainly not our intention and therefore we have removed the piece from the site." Iann Robinson of CraveOnline was much less forgiving or accepting, calling the album "a waste of space," ultimately giving the album a 1 out of 10.
Track Listing
Edit
Standard EditionEdit
"Nightmare"
"Welcome to the Family"
"Danger Line"
"Buried Alive"
"Natural Born Killer"
"So Far Away"
"God Hates Us"
"Victim"
"Tonight the World Dies"
"Fiction"
"Save Me"
iTunes Deluxe Version & Japanese Edition Bonus TrackEdit
Limited Edition Book of Nightmares Bonus TrackEdit
Personnel
Edit
Avenged SevenfoldEdit
Additional MusiciansEdit
ProductionEdit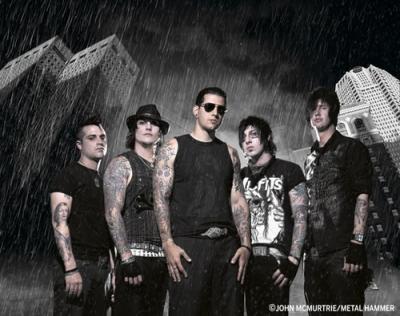 Music Videos
Edit
References
Edit
Ad blocker interference detected!
Wikia is a free-to-use site that makes money from advertising. We have a modified experience for viewers using ad blockers

Wikia is not accessible if you've made further modifications. Remove the custom ad blocker rule(s) and the page will load as expected.