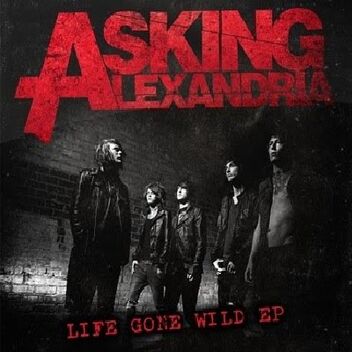 Life Gone Wild
is the first EP by British metalcore band
Asking Alexandria
. It was released on December 21, 2010, through
Sumerian Records
and contains "Breathless", dubstep remixes of "A Single Moment of Sincerity" and "Not the American Average", two Skid Row covers of "18 and Life" and "Youth Gone Wild", and an unreleased demo version of "I Was Once, Possibly, Maybe, Perhaps a Cowboy King". The cover art is similar to that of the cover of Skid Row debut album, from which it gets its name, two Skid Row song titles combined, "18 and Life" and "Youth Gone Wild".
Background
Edit
In an Alternative Press interview, Ben Bruce showed concern for the EP's reception, questioning if people will like it or not. He hopes that, due to their influence by 1980s rock music, it will have their older fans reminiscing on music they grew up on, as well as introducing their younger audience to music they may have never heard of. The reasoning behind the Skid Row covers was due to their status as "timeless classics". The "Sincerity" and "American Average" remixes were done to "broad the horizons and introduce people to another genre of music we love to listen to." and what is to come for the remix album "Stepped Up and Scratchted". Including "Breathless" on the EP is to give fans a taste of what's to come on Reckless & Relentless. The demo of "I Was Once, Possibly, Maybe, Perhaps a Cowboy King" is a "version that most people won't be familiar with and that you can't buy anywhere else."
Track Listing
Edit
Personnel
Edit
Asking AlexandriaEdit
ProductionEdit
Ad blocker interference detected!
Wikia is a free-to-use site that makes money from advertising. We have a modified experience for viewers using ad blockers

Wikia is not accessible if you've made further modifications. Remove the custom ad blocker rule(s) and the page will load as expected.