If Guns Are Outlawed, Can We Use Swords?
is the first release by American
metalcore
band
Attack Attack!
. It was self-released during 2008
Background
Edit
If Guns Are Outlawed, Can We Use Swords? was recorded during the duration of late 2007 through 2008 and was released during early 2008. The EP was released free of charge as an internet download and has never been officially released on Compact Disc. Several months later, the band signed with Rise Records. After the release of the EP and Attack Attack!'s signing to Rise, they would sort their line-up to the decided six members (Carlile, Whiting, Shomo, Wetzel, Holgado, Franck) to record their debut-full length album, Someday Came Suddenly. Half of the songs included on If Guns Are Outlawed, Can We Use Swords? were re-recorded for Someday Came Suddenly, which was also released in 2008.
Track Listing
Edit
"The People's Elbow"
"Dr. Shavargo Pt. 2"
"Party Foul"
"What Happens If I Can't Check My MySpace When I Get There?"
"If Guns Are Outlawed..."
"On the Porch"
"Healthy Normal"
"Poison Sumac Body Wrap"
Personnel
Edit
Attack Attack!Edit
ProductionEdit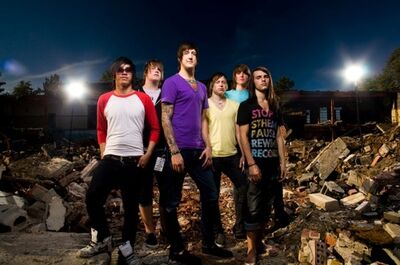 Ad blocker interference detected!
Wikia is a free-to-use site that makes money from advertising. We have a modified experience for viewers using ad blockers

Wikia is not accessible if you've made further modifications. Remove the custom ad blocker rule(s) and the page will load as expected.