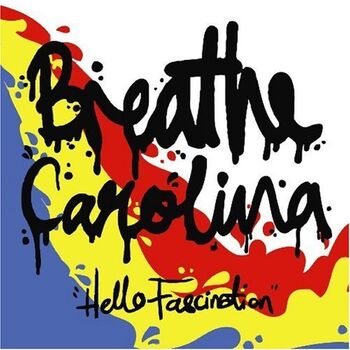 Hello Fascination
is the second studio album by electronic
post-hardcore
duo
Breathe Carolina
. It was released on August 18, 2009 through
Fearless Records
. It was produced by Mike Green and Matt Squire.
The album was supported by two singles, "Hello Fascination" and "I.D.G.A.F.", which is an abbreviation of the phrase "I don't give a fuck". "I Have to Go Return Some Video Tapes" is a homage to the film American Psycho, referring to a line said by Christian Bale.
Background
Edit
The album was released on August 18, 2009. It peaked at number 43 on the Billboard 200 and spent approximately two weeks on the chart. It also peaked in the Rock, Alternative, Independent, and Dance/Electronic Album Charts. A deluxe edition was released exclusively via iTunes on July 6, 2010, including five bonus tracks, three remixes, and a music video. "Hello Fascination" and "The Dressing Room" are available as downloadable content for the iPhone application Tap Tap Revenge.
"Hello Fascination" was released for digital download on February 3, 2010 as the first single from the album. A vinyl including three remixes of the track was released on February 8. A trailer for the accompanying music video was released on January 27. The video was directed by Spence Nicholson and premiered on the duo's official MySpace page on February 3 whilst premiering on Fearless YouTube channel on February 8. The album's second single, "I.D.G.A.F.", was available for free download on the duo's Twitter page on June 8, 2010. An accompanying music video was shot in Los Angeles, California and released on June 30. A clean version of the track was released on the deluxe edition of the album.
Critical Reception
Edit
Tim Sendra of Allmusic gave the album 3 and a half stars out of 5, positively saying, "Hello Fascination won't top any year-end critics polls, but while it is playing, the goofy lyrics, bubblegum snappy melodies, and overall feeling of joyousness will make you feel good. What could be better than that?" However, Drew Beringer of AbsolutePunk gave the album a highly negative review, saying that "Breathe Carolina will sell a lot of copies, so good for them, but that doesn't make this band any less despicable to self-respecting fans of music".
Track Listing
Edit
Standard EditionEdit
"Hello Fascination"
"I'm the Type of Person to Take It Personal"
"Take Me to Infinity"
"Dressed Up to Undress"
"I.D.G.A.F."
"Welcome to Savannah"
"I Have to Go Return Some Video Tapes"
"The Dressing Room"
"Tripped and Fell in Portland"
"Can I Take You Home?"
"My Obsession"
"Velvet"
"Rescue"
Japanese Edition Bonus TrackEdit
Limited Edition CLEAR vinylEdit
"Hello Fascination" (DJ Sucio Remix)
"Hello Fascination" (Sex Machine Remix)
"Hello Fascination" (P.O.S. Remix)
Deluxe Edition New TracksEdit
"Have You Ever Danced?" (featuring Jeffree Star, Austin Carlile of Of Mice & Men and Dave Strauchman of Every Avenue)
"Don't Forget: Lock the Doors"
"I.D.G.A.F." (Radio Edit)
"Hello Fascination" (Sex Machine Remix)
"Hello Fascination" (DJ Sucio Remix)
"Can I Take You Home?" (Smile Future Remix)
"With or Without You" (U2 Cover)
"See You Again" (Miley Cyrus Cover)
Personnel
Edit
Breathe CarolinaEdit
Kyle Even - unclean vocals, synthesizers, keyboards, guitars and bass guitar
David Schmitt - clean vocals, synthesizers, electronics, guitars, drums and percussion
Additional MusiciansEdit
ProductionEdit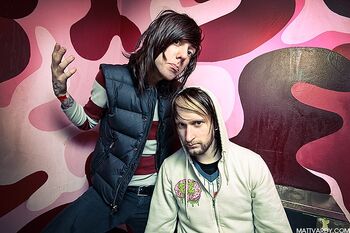 Music Video
Edit
References
Edit
Ad blocker interference detected!
Wikia is a free-to-use site that makes money from advertising. We have a modified experience for viewers using ad blockers

Wikia is not accessible if you've made further modifications. Remove the custom ad blocker rule(s) and the page will load as expected.