Dying Is Your Latest Fashion
is the debut album by American
post-hardore
band
Escape The Fate
, released September 26, 2006 through
Epitaph Records
. The origin of the album's title comes from a line in the chorus of the song "
Situations
". It contains nine new songs plus two songs taken from
There's No Sympathy for the Dead
. "
Not Good Enough for Truth In Cliché
" and "
Situations
" were released as singles, with videos being made for both. It is the only studio album and second release with original vocalist and founding member Ronnie Radke. Ronnie would later be incarcerated and kicked out of the band. It is also the last release to feature guitarist Omar Espinosa and  keyboardist Carson Allen (although he was no longer in at the time). Mandy Murders modeled for the cover art and dated Ronnie Radke in the past.
Background
Edit
Promotion and ReleaseEdit
Escape the Fate released the song "Not Good Enough for Truth In Cliché" as the first single and later released the song "Situations" as the second single on November 20, 2007 on iTunes, which included "Situations", it's video, and the B-side "Make Up" which was previously only available on the Japanese version of Dying Is Your Latest Fashion.
"The Webs We Weave" was supposed to be the band's third single on the album, but was never released due to Ronnie Radke's departure.
Following the release of the album, Radke was put on parole for narcotics charges and later violated parole when he was involved in an altercation resulting in the death of 18-year old Michael Cook but Radke did not kill Cook. Radke plead guilty to Battery charges and was sent to prison for two years, leading Escape the Fate to hire Craig Mabbitt as their temporary new vocalist. He would later be made the permanent new singer for the band and release two studio albums with Escape the Fate.
Track Listing
Edit
Standard EditionEdit
"The Webs We Weave"
"When I Go Out, I Want to Go Out On a Chariot of Fire"
"Situations"
"The Guillotine"
"Reverse This Curse"
"Cellar Door"
"There's No Sympathy for the Dead"
"My Apocalypse"
"Friends and Alibis"
"Not Good Enough for Truths and Cliché"
"The Day I Left the Womb"
Japanese Bonus TrackEdit
Personnel
Edit
Escape the FateEdit
Additional MusiciansEdit
ProductionEdit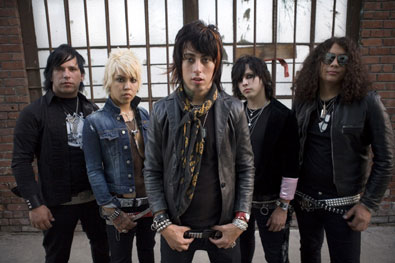 Music Videos
Edit

References
Edit
Ad blocker interference detected!
Wikia is a free-to-use site that makes money from advertising. We have a modified experience for viewers using ad blockers

Wikia is not accessible if you've made further modifications. Remove the custom ad blocker rule(s) and the page will load as expected.