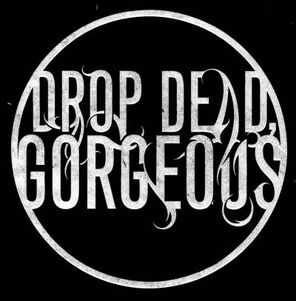 Drop Dead, Gorgeous was an American metalcore band from Denver, Colorado and was signed to Suretone Records until their hiatus in 2011. The band was formed in 2004 and during the years until their 2011 hiatus the band has released three studio albums and one extended play. The band released their debut extended play, Be Mine, Valentine, on January 10, 2006 followed that year by their debut studio album, In Vogue, on May 2, 2006. The band released their sophomore album, Worse Than a Fairy Tale, on August 14, 2007 followed by their final album before their 2011 hiatus The Hot N' Heavy, on June 2, 2009.
Formation and Signing to Rise Records (2004 - 2006)Edit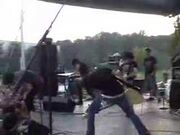 Drop, Dead Gorgeous was formed in 2004 by Marcus Tallitsch, Kyle Browning, Jake Hansen, Danny Cooper, Dan Gustavson and Aaron Rothe while half of the members were still in high school. Later that year vocalist Marcus Tallitsch left the band and was replaced by Danny Stillman. In September 2005 the band was signed to
Rise Records
after being discovered by the label through songs the band had posted on their MySpace and Purevolume accounts. The band had yet to do any extensive touring before or even after the January 10, 2006 release of their extended play,
Be Mine, Valentine
. Later that year the band released their debut studio album,
In Vogue
. The summer after the release of the album was spent on an extensive nationwide tour, hooking up on various dates with bands like
Scars of Tomorrow
,
Folly
, and
Calico System
.
Worse Than a Fairy Tale and Signing to Suretone Records (2006 - 2007)Edit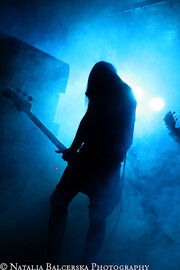 By the year's end, Drop, Dead Gorgeous (whose oldest member at the time was still only 20) had inked a deal with the Interscope imprint Suretone and began work on their sophomore effort with producer Ross Robinson. At this point, the band was also trimmed down to five members when Judas Leary left the band and lead vocalist Danny Stillman took up rhythm guitar.
In June 2007, Drop Dead, Gorgeous played along with fellow Rise Records label mates The Devil Wears Prada, Dance Gavin Dance, and At the Throne of Judgment on the Rise Records tour. From July 18 to July 22, they played a series of shows in Mexico, before joining the Vans Warped Tour 2007, playing dates from July 25 to August 25. In the duration of their touring in Warped Tour.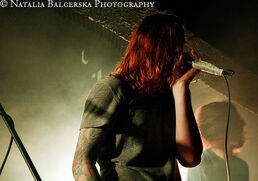 On August 14, 2007 the band released their sophomore album,
Worse Than a Fairy Tale
, which is a concept album depicting a fictional account of a serial killer on the loose in a small town.
In September and October 2007, they toured in support of Aiden with Still Remains, and 1997 on their first full headlining US tour. They also joined Alesana, Idiot Pilot, and The Number Twelve Looks Like You at the end of November. They filled in for Escape the Fate at the Australian Taste of Chaos shows.
In 2008 keyboardist Aaron Rothe left the band and was replaced by Jonathan Leary who was related to former guitarist Judas Leary. 
The Hot N' Heavy and Hiatus (2009 - 2011)Edit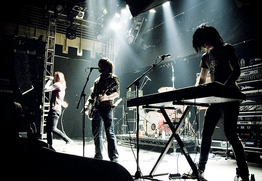 In March 2009 they toured with
Alesana
,
I Set My Friends On Fire
, and
Fear Before
.
They then headlined "The Hot N' Heavy Tour" with support from He Is Legend, Before Their Eyes, and And Then There Were None. On the second half of the tour Eyes Set to Kill, Watchout! There's Ghosts, and Defending the Pilot joined in.
On June 2, 2009 the band released their third album, The Hot N' Heavy, which was charted by Billboard at No. 6 on the Top Heatseekers chart, No. 23 on the Independent Albums chart, and No. 192 on the Billboard 200.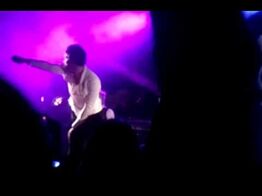 They went on tour again on October 9, 2009 in support of
Blessthefall
and
Finch
on the
Atticus
tour. In Summer of 2010 they headlined a tour with band such a
Scarlett O'Hara
as well as
Attila
,
Woe, Is Me
, and
Abandon All Ships
.
On August 19, 2011, Stillman had confirmed that Drop, Dead Gorgeous is currently on hiatus because they are all doing other projects such as ManCub, The Bunny The Bear, Curses and It's Teeth. Although there have been pics that show some members are already getting together writing music for the next album, as for recording a new album it seems unlikely it will be anytime soon.
Band Members
Edit
Final Line-upEdit
Former MembersEdit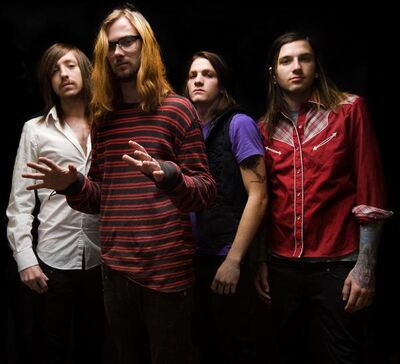 Discography
Edit
Studio AlbumsEdit
Extended PlaysEdit
References
Edit
Ad blocker interference detected!
Wikia is a free-to-use site that makes money from advertising. We have a modified experience for viewers using ad blockers

Wikia is not accessible if you've made further modifications. Remove the custom ad blocker rule(s) and the page will load as expected.