Dog's Blood
is the first extended play by Canadian
post-hardcore
band
Alexisonfire
, released on October 31, 2010 through
Dine Alone Records
. The extended play is a collection of experimental songs that are ostensibly different-sounding to the band's previous releases.
Dog's Blood
is the band's last release before their break up in 2011.
Background
Edit
Writing and RecordingEdit
Work on the Dog's Blood EP was originally announced in September 2009, shortly after the release of Old Crows/Young Cardinals in July 2009, and an early 2010 release date was expected. By this point, the band had a small group of songs—one of which was an instrumental song written during the sessions of Old Crows/Young Cardinals, and the rest were written while Alexisonfire was on tour. The title track "Dog's Blood" was originally only a "really crazy riff," that later evolved into a full song. Alexisonfire vocalist George Pettit wrote macabre lyrics that were loosely influenced by Nick Cave. The title track features guest vocals by Olly Mitchell, the former vocalist of Johnny Truant.
The album was recorded and co-produced by Alexisonfire and Jon Drew, the latter of which has also recorded albums for the Canadian bands Fucked Up and Tokyo Police Club. Though much of the EP was written by September 2009, the band did not find time to record Dog's Blood until mid-late 2010 due to their rigorous touring schedule.
Prior the EP's release, Alexisonfire debuted the album's titled track live and the 2010 CASBY Awards in Toronto, Canada on September 30, 2010, and a recording of the track was posted online. Dog's Blood will be released through Dine Alone Records on November 2, 2010, though it will be distributed internationally on various dates through different labels. This release date coincide's with Alexisonfire's late 2010 tour schedule. A vinyl edition of the album was pressed limited to 2,000 copies in three different colors obtainable through different outlets: one color available from the band on tours, one available through the band's official webstore and the final can be found in record stores. The EP will also be available through online music retailers like iTunes and Amazon.com. Due to a delay in the manufacturing of Alexisonfire's Dog's Blood, the EP was not shipped until November 23.
All of the tracks on Dog's Blood are songs that the band felt were too different from their other material to ever make it onto a full-length, and thus released as an EP of "completely miscellaneous stuff." Alexisonfire used the extended play as a safe medium for releasing their different-sounding songs without receiving backlash from their fan base. According to George Pettit, "If you're disappointed by an EP, you're probably still more than likely to come back for the next record."
The artwork was designed by the American artist named "Skinner." Alexisonfire gave Skinner the EP's title and the band's name, and allowed him to freely design a cover art based on these two aspects alone. The artwork was completed prior to the album's recording. Alexisonfire vocalist and guitarist Dallas Green was a fan of Skinner's work, and decided to contact him to do their artwork. According to Pettit, "Dallas loves [Skinner's] art. He always had pictures of it on his computer. He said, 'We should get this guy to do some art work,' so we got in touch with him and he put together this cool, interesting thing."
Track Listing
Edit
"Dog's Blood" (featuring Olly Mitchell formerly of Johnny Truant)
"Grey"
"Black as Jet"
"Vex"
Personnel
Edit
AlexisonfireEdit
Additional MusiciansEdit
ProductionEdit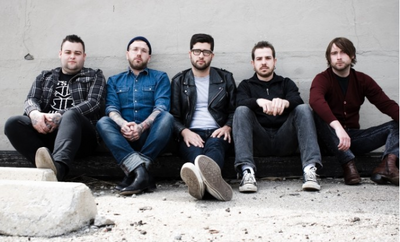 References
Edit
Ad blocker interference detected!
Wikia is a free-to-use site that makes money from advertising. We have a modified experience for viewers using ad blockers

Wikia is not accessible if you've made further modifications. Remove the custom ad blocker rule(s) and the page will load as expected.