Destroy the Runner was an American christian metalcore band from San Diego, California. The band was formed in 2004 under the name Die Like Me. The band only released two albums before breaking up in 2010; their first studio, Saints, was released on September 12, 2006 and their second album, I, Lucifer was released on April 15, 2008.
Formation and Saints (2004 - 2007)Edit
Destroy the Runner formed in 2004 under the name, Die Like Me, by Kyle Setter, Duane Reed, Nick Maldonado and Marc Kohlbry. The band released their self-titled extended play in 2004 under their original name. The band was signed to Solid State Records in June 2006 upon being signed changed their name to Destroy the Runner in reference to the 1976 film Logan's Run. Destroy the Runner released their debut album, Saints on September 12, 2006 to mixed reviews and embarked on a tour supporting Haste the Day and Scary Kids Scaring Kids.
Departure of Setter and I, Lucifer (2007 - 2009)Edit
Vocalist Kyle Setter left the band after the band finished up their tour in Puerto Rico releasing this statement a year after his departure from the band: "Why I left DTR... I felt God tugging on my heart for quite some time to leave DTR and, trust me, it was the hardest decision to make in my entire life! Anyone with a semi-decent working brain would never leave a band that has a rather successful album debut on Solid State Recods. I mean, we had it all: a video circulating on MTV, amazing National Tours, and the best fans in the world! Duane, Marc, and Nick were my closest friends that I have ever had - closer then brothers! To tell them that I was leaving the band after our Puerto Rico tour was the scariest thing ever! I was driving across the Bay Bridge in San Francisco while enroute to Roseville for our next show. Previously, Marc and I had a discussion about where my heart was and where I saw myself in the future. While I was driving, and me being the coward I am, Marc suddenly announced that I had had something to talkabout with the band. In that moment, I remember praying to God that I would have the proper words to say and that the band wouldn't kill me! As I told them, I felt this huge weight being lifted off of my shoulders. I mean, it was amazing!"
After the departure of Setter, the band's bassist Jeremiah Crespo also left the band. With two spots open in Destroy the Runner the remaining band members added vocalist Chad Ackerman and Tanner Sparks who had been working together musically before joining Destroy the Runner.
In October 2007, the band began recording their sophomore album, I, Lucifer, with Brian McTernan at Salad Days Studios in Baltimore, MD and the album was released on April 15, 2008. The album adopted more of a progressive sound, with less screamed vocals than their previous releases. The album charted on the U.S. Top Christian Albums Billboard chart at No. 27 and on the Top Heatseekers chart at No. 25.
New Material and Break-Up (2009 - 2010)Edit
On August 11, 2009 the band announced on their Myspace blog that they are in the studio writing and recording for their third album and will have new material out soon.
On the October 4, 2009 the band announced via Myspace bulletin that they would release a b-side from Saints before their new album would be released.
On December 4, 2009 Chad Ackerman released a statement updating their current work on their third album: "We are recording our 3rd studio album right now, and it is going great so far. Way heavier, screaming, breakdowns, shredding guitars, double bass...haha. The whole bit. Jordan Mancino (of As I Lay Dying) will be playing all of the drums on the new record, and we are having many well known guest vocalists from today's scene. Also, we are releasing a B-side from our first album 'Saints,' but with my vocals on it. The B-side is entitled 'Sinners,' and we will be releasing it online this month."
On 16 May 2010, Destroy the Runner announced that they would taking an "indefinite hiatus" because their album, I, Lucifer was utter garbage compared to their previous works. While the band has broken up, the members continue to be involved with music.
On May 20, 2010 Chad Ackerman explained what happened and why the band broke-up: "Duane and Maldy (Nick Maldonado) wanted to have a meeting last week to talk about something with Tanner and me. When we met up last week, both Duane and Maldy told us that they were over with and done with Destroy The Runner. They also said that they wanted none of the new album to be released that we have been working on for the last 7 months. This was a huge disapointment and shock to both me and Tanner. At this point, I would say yes, this is a permanent break up.
Band Members
Edit
Final Line-UpEdit
Former MembersEdit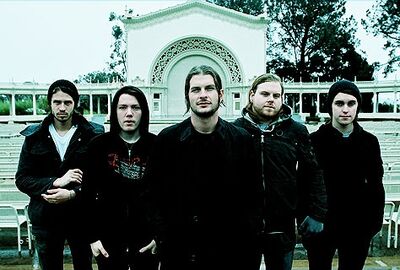 Discography
Edit
Studio AlbumsEdit
Extended PlaysEdit
References
Edit
Ad blocker interference detected!
Wikia is a free-to-use site that makes money from advertising. We have a modified experience for viewers using ad blockers

Wikia is not accessible if you've made further modifications. Remove the custom ad blocker rule(s) and the page will load as expected.