Chunk! No, Captain Chunk! are a French post-hardcore band who formed in 2008 in Paris. The band was founded by Bertrand Poncet, Jonathan Donnaes, Mathias Rigal, Paul Wilson and Éric Poncet. The bands name is derived from the movie The Goonies. The band has released one studio album, Something for Nothing in 2010 and a self-titled extended play in 2008.
Formation and Debut Album (2008 - 2010)Edit
Named after the '80s classic adventure movie, "The Goonies", French pop punkers of Chunk! No, Captain Chunk! combine the energy of punk, the catchiness of pop, and the crushing assault of hardcore into a power party sound. Since forming in 2007 in Paris, they have created grin-inducing, infectious music, winning them friends and fans all over the world. In 2008, shortly after forming, the band recorded their
self-titled
extended play, featuring several tracks, including
Milf
which would later be re-recorded for their debut album
Something for Nothing
which was released on November 1, 2010.
Signing to Fearless Records and Rerelease (2011 - present)Edit
After signing to Fearless Records with a global deal in 2011 they re-released their debut album Something for Nothing on July 19, 2012. The re-release featured a brand new album artwork and a different track listing, replacing "Milf" and "Alex Kidd in Miracle World" with the bonus track "Make Them Believe". To coincide with the re-release the band released a music video for "Captain Blood".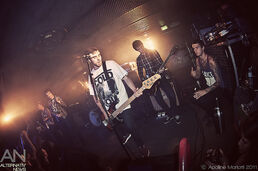 On October 2011 the band joined
The Artery Foundation
's European "Across the Nation" tour headlined by
Miss May I
. This is the first time the band has performed in the United Kingdom. The tour was well received including the band, said to have featured "a downright bizarre and eclectic lineup". In December the band went back to the United States
Fearless Friends Tour
, a tour which exclusively features bands from the Fearless Records' roster with
Blessthefall
,
The Word Alive
,
Motionless in White
, and
Tonight Alive
. In November 2011 the band contributed a cover of Kesha's single "
We R Who We R
" on
Punk Goes Pop 4
as part of the Punk Goes.... cover album series which was released internationally on 21 November 2011. In 2012 Captain Chunk! tour schedule in the United States expanded rapidly, supporting
Attack Attack!
in late January and February 2012 as part of their on going
This Means War
album support. Through-out March and April the band also supported deathcore band
Chelsea Grin
on their debut headline tour "The Sick Tour". The band also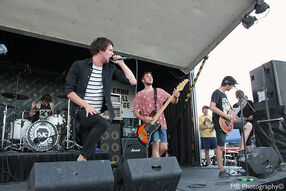 was announced for Vans Warped Tour 2012 line-up, the band toured for the entire festival and played on the
Ernie Ball Stage.
With their performances as part of the Warped Tour the band contributed the single
In Friends We Trust
to the Warped Tour 2012 Tour compilation album. During their performances on the Warped Tour the band performed new songs. The band also was the main support for
Woe, Is Me
on their
Talk Your [S]#?! Tour
across November and December.
After circulating rumours about the band's presence at the Australian 2013 Soundwave festival they were confirmed on 8 August 2012 for the festival, performing at all 5 dates in: Brisbane, Sydney, Melbourne, Adelaide and Perth.
Untitled Sophomore Album (2013 - present)Edit
On January 10, 2013 the band announced they are in the studio working on their follow-up to Something for Nothing with Joey Sturgis with a release scheduled for this year.
Musical Style
Edit
Chunk! No, Captain Chunk! is defined by their pop punk sound which is contrasted by their "heavy metal alter ego" and their "growling hardcore". The band fuses the up-beat melodies of pop punk with aggressive breakdowns and lower guitar tunings like Drop Bb to give their music a much heavier sound. Chunk! No, Captain Chunk! has been noted by various critics as fusing pop punk, melodic hardcore and metalcore. An electric blend of styles known as easycore or popcore, a style which was pioneered by A Day to Remember and Four Year Strong, bands whom reviewers have made stark comparisons with.
Band Members
Edit
Current MembersEdit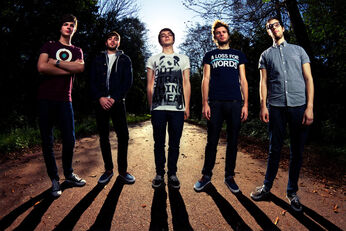 Discography
Edit
Studio AlbumsEdit
Extended PlaysEdit
References
Edit
Ad blocker interference detected!
Wikia is a free-to-use site that makes money from advertising. We have a modified experience for viewers using ad blockers

Wikia is not accessible if you've made further modifications. Remove the custom ad blocker rule(s) and the page will load as expected.