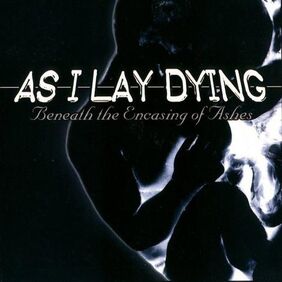 Beneath the Encasing of Ashes
is the debut studio album by American
metalcore
band
As I Lay Dying
, released on June 12, 2001 through
Pluto Records
. The album was recorded by the band when there was only three members with Evan White recording the lead, rhythm and bass guitar parts. Many reviewers
compare the overall sound of this album to
Zao
 with the band finding their own sound in later releases. The song, "
Behind Me Lies Another Fallen Soldier
", was re-recorded for the band's sophomore album,
Frail Words Collapse
. The band also re-recorded a medley consisting of parts from several songs on the album included on
Decas
, a compilation album comemorating the band's ten years together.
Track Listing
Edit
"Beneath the Encasing of Ashes"
"Torn Within"
"Forced to Die"
"A Breath in the Eyes of Eternity"
"Blood Turned to Tears"
"The Voices That Betray Me"
"When This World Fades"
"A Long March"
"Surrounded"
"Refined by Your Embrace"
"The Innocence Spilled"
"Behind Me Lies Another Fallen Soldier"
Personnel
Edit
As I Lay DyingEdit
ProductionEdit
References
Edit
Ad blocker interference detected!
Wikia is a free-to-use site that makes money from advertising. We have a modified experience for viewers using ad blockers

Wikia is not accessible if you've made further modifications. Remove the custom ad blocker rule(s) and the page will load as expected.