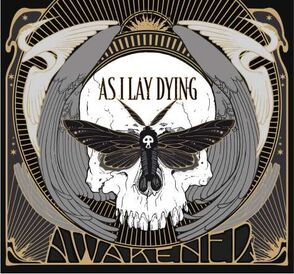 Awakened
is the sixth studio album by American
metalcore
band
As I Lay Dying
, released on September 25, 2012 through
Metal Blade Records
The album was produced by
Descendents
drummer Bill Stevenson and recorded at
The Blasting Room
in Fort Collins, Colorado and Lambesis Studios in San Diego, California. On June 22, 2012, the album title, release date, and first single were announced. On June 25, the first single "
Cauterize
" was released for free download and became available online for purchase the following day. On June 27, a lyric video for "
Cauterize
" was released along with album artwork, also the band created an event on Facebook inviting fans to participate in a music video shoot for "A Greater Foundation". Fans were able to pre-order a copy on the Rockstar Mayhem Festival 2012. The band has begun releasing clips of the new album via SoundCloud, prior to the release date. On September 11, the music video for "A Greater Foundation" was released.
Background
Edit
ReceptionEdit
Overall the reception of Awakened has been positive. Jordan Munson of UnderTheGunReview rated the album 8.5/10 commenting "Each of the songs has a logical and sensible flow to them. Every guitar solo is absolutely perfect in its context."
Chad Bowar of Loudwire gave the album '3 and a half stars' out of 5 and comments "'Awakened' is not breaking new ground when it comes to metalcore music, but if you want an expertly executed, well-written album, As I Lay Dying deliver the goods"
Mark Fisher of of Metalforce Magazine gave the album an impressive 10/10.
Track Listing
Edit
Standard EditionEdit
"Cauterize"
"A Greater Foundation"
"Resilience"
"Wasted Words"
"Whispering Silence"
"Overcome"
"No Lungs to Breathe"
"Defender"
"Washed Away" (Instrumental)
"My Only Home"
"Tear Out My Eyes"
Bonus TracksEdit
"Unwound" (B-side Demo)
"A Greater Foundation" (Extended Demo Version)
Limited Edition DVDEdit
"Making of Awakened"
"I Never Wanted" (Music Video)
"Parallels" (Music Video)
"Anodyne Sea" (Music Video)
"Behind the Scenes of Anodyne Sea Video Shoot"
"Electric Eye" (Judas Priest Cover, Music Video)
"Paralyzed" (Music Video)
"Cauterize" (Music Video)
Personnel
Edit
As I Lay DyingEdit
Additional MusiciansEdit
ProductionEdit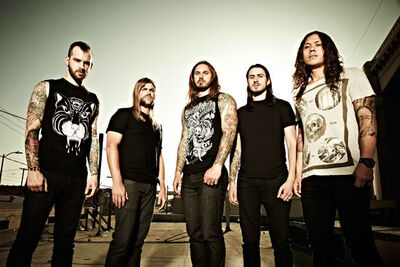 Music Videos
Edit
References
Edit
Ad blocker interference detected!
Wikia is a free-to-use site that makes money from advertising. We have a modified experience for viewers using ad blockers

Wikia is not accessible if you've made further modifications. Remove the custom ad blocker rule(s) and the page will load as expected.