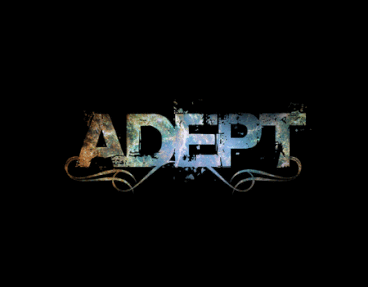 Adept is a Swedish metalcore band from Trosa, Sweden and are currently signed to Panic & Action Records. The band was formed in 2004 by Robert Ljung, Jerry Repo, Gabriel Hellmark, Andreas Carlsson and Andrew Chramer. The band has toured with many notable bands in their scene throughout Europe and has released two studio albums and two extended plays. The band's debut studio album, Another Year of Disaster, was released on February 4, 2009 followed by their sophomore album, Death Dealers, on March 4, 2011.
Formation and Early Releases (2004 - 2008)Edit
Adept formed in 2004 by Robert Ljung, Jerry Repo, Gabriel Hellmark, Andreas Carlsson and Andrew Chramer and within their first year the band released their demo, Hopeless Illusions, which they recorded and sold on their own. After the release of their demo the band began work on their first EP, When the Sun Gave Up the Sky, releasing it in 2005 financing the EP out of pocket.
The band began work again on their second EP, The Rose Will Decay, this time with Pretty Dirty Promotion a record label located in Hultsfred, Sweden. The extended play was released on December 22, 2006 and was met with much aclaim and would bring the band the attention of Panic & Action Records, an independent label that would release all subsequent releases by the band.
On September 20, 2008 the band was signed to Panic & Action Records and will be embarking on their first tour in November and later that year begin work on their full-length debut album
On December 10, 2008 Panic & Action Records announced that they will be releasing a compilation album, Burn All the Small Towns, with new a song by Adept. On January 14, 2009 Panic & Action announced that the compilation album will be released on March 4, 2009 and that the track from Adept titled, "Sound the Alarm".
Another Year of Disaster and Death Dealers (2009 - 2012)Edit
On January 6, 2009 the band released their first single from their upcoming album, "Shark Shark! Shark!". On February 4, 2009, Adept released their first full-length album, Another Year of Disaster. Not long after the release of the album bassist Tobias Ottosson left the band and was replaced by Filip Brandelius.
On October 15, 2009 the band released their third EP, Shark! Shark! Shark and in 2010, Adept toured in Germany with labelmate Her Bright Skies on the six stop The Toughest Kids tour, stopping in Hamburg, Berlin, Osnabrück, Munich, Stuttgart and Cologne.
In August 2010, Adept began working on their follow-up to Another Year of Disaster with expierenced music producer Fredrik Nordström who has worked with bands In Flames, Bring Me the Horizon and At the Gates.
On September 10, 2010 the band released their new single and music video; "At Least Give Me My Dreams Back, You Negligent Whore!".
On January 20, 2011 the band announced the title for their follow-up to Another Year of Disaster, "Death Dealers" with an expected release of March 2, 2011. The band released their first single from their upcoming album, "The Ivory Tower" on February 7, 2011.
On March 2, 2011, the band released their second full-length album, Death Dealers. Adept played their first European tour which started in Sweden and lead through France, Russia, Finland, Norway, , Czech Republic, Denmark, Hungary and Italy. In May they played some shows in Germany while that EU tour together with As Blood Runs Black, Caliban and For Today. Adept to played some shows in Austria on that tour and opened for August Burns Red.
On June 9, 2011 Panic & Action announced officially that Jacob Papinniemi has left the band due to no longer wanting to tour and wanting to leave the band as he could not keep up with touring, or liked being on the road. Therefore, during the summer and all the upcoming festivals Adept will play with a stand-in guitarist.
On October 31, 2011 the band announced that they had recently recruited former Saving Joshua guitarist Gustav Lithammer. Before the band embarked on the Lost Boys tour they released their single, "The Lost Boys" and their cover of "Riot in Everyone" by Crash Diet.
Untitled Third Album (2012 - present)Edit
On June 7, 2012 Panic & Action announced that Adept will be entering Studio Fredman in September to record their follow-up to Death Dealers again with production team Fredrik Nordström and Henrik Udd. Along with the announcement vocalist Robert Ljung statement revealed the following information: "During the last six months we have been working hard on new songs for this record. Trying out different sounds and different approaches to keep it fresh and renewed. We have always felt blessed by the great responses we've had on our previous albums and we now feel confident enough to say that this will be our best album to date. It's a mix between our first two albums where we have definitely taken a heavier approach then Death Dealers but kept the melodies from Another Year of Disaster, something we missed out on the latest album. But don't get us wrong - this album will be heavy as f***".
The band has embarked on a European tour with August Burns Red with some filler dates and festival apperances at Southside, Hurricane, Vainstream and the big swedish metal fest Metaltown.
On September 19, 2012 the band entered the Studio Fredman to begin work on their upcoming third album.
On November 29, 2012 announced that they have finished recording their new album with an expected release in the first quarter of 2013. The band will be playing at Panic & Action Bring The Noise in Örebro, Swedin with labelmates; Her Bright Skies, Walking With Strangers, Chemical Vocation and Aim for the Sunrise. The band plans to embark on the Impericons Progression Tour in April with bands; Callejon, August Burns Red, Architects and Breakdown Insanity. The tour will end in Vienna at the Impericon Festival which will be headlined by Heaven Shall Burn.
Band Members
Edit
Current MembersEdit
Former MembersEdit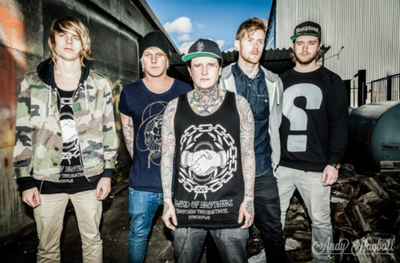 Discography
Edit
Studio AlbumsEdit
Extended PlaysEdit
References
Edit
Ad blocker interference detected!
Wikia is a free-to-use site that makes money from advertising. We have a modified experience for viewers using ad blockers

Wikia is not accessible if you've made further modifications. Remove the custom ad blocker rule(s) and the page will load as expected.